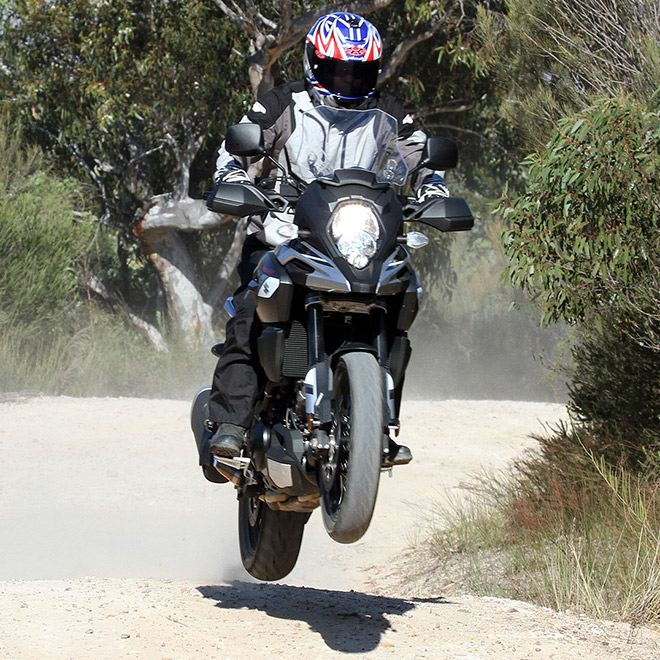 ---
The old DL1000 got a big overhaul in 2014. The pre-2014 1000 wasn't a patch on the DL650.
We are pleased to say the new model is much better, it's now a contender for tarmac and light gravel adventure at a bargain price.

After a short ride on the V-Strom it was scarily obvious that the suspension simply couldn't keep up with the huge 1,037cc V-twin motor in the V-Strom. It struggled to hold a line in the corners and had an overall un-damped, boat like, generally terrifying feel. This lead to some white knuckle moments on our test loop! Owners report there are plenty of white knuckle moments on the road and gravel.

After a quick run on the suspension dyno it confirmed our first impressions were correct. It took more than one revalve and dyno run to get the setup where it needs to be, but the end result is a much more confident feel that allows the rider to open the throttle and dive into corners without fear.
For up to 100kg we don't replace the springs, there is no need. The problem is a very light damping force all over.

Add another $330 for Removing and Refitting the suspension if you bring the bike in.


"Hey just taken the V-Strom 1000 for a ride post Teknik working on the suspension. My instructions were set it up for dirt road touring. The result was great, took out all the small corrugations from the road and bigger hits that I used to brace for now handled those fine. The end result was a better ride with much more predictable steering and handling particularly on the dirt, but also sharpened up handing on the tar.
Thanks for your help, bike has been transformed."
- Steve Hamblyn
2015 DL1000
Forks


The forks are quite an unusual design, we rely on the shock dyno to diagnose designs like this with great results.
Fork Revalve. Adds real damping the whole way through the stroke, stops the bike from wiggling and wallowing about through corners.

Price $450
(If the rider is over 100 kgs) New Fork Springs Approx $200.00


Shock
The Mighty V-Strom 1000 is ready for adventure after a suspension dyno tune and revalve.
Shock Revalve. Keeps it down on the ground rather than bouncing and skipping everywhere. Set specifically for your weight and how you want to use it.

Price $440
(If the rider is over 100 kgs) New Shock Spring Approx $200.00


---