Road & Offroad Motorbike Front End Steering Damper Kits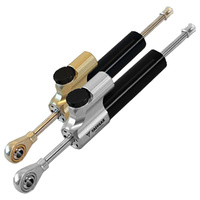 Yacguar Steering Damper-75mm
(SKU: 50.075)
---
Keep in control with motorcycle steering dampers
Whether you are travelling at high speed in a race environment, navigating tough terrain off-road or just cruising around, ensuring you're always in control is paramount.
Steering dampers are the perfect stabilisation tool, preventing any sudden wobbles that can be caused by uncontrolled movement or oscillations. These wobbles can be extremely dangerous at high speed, when trying to make sharp and precise turns offroad or simply when you are in traffic. Dampers are an essential safety tool for your motorbike, no matter when or how you are riding it.
Teknik Motorsport has you covered with the best quality options on the market. Each design is simple to install and comes backed with a plethora of safety features.
How do steering stabilisers impact my driving?
Because these components increase the resistance on your front forks and steering, some people are concerned it will make it more difficult to handle and will decrease responsiveness. This is not true, as our products feature progressive responsiveness; the more force placed on them, the more they will respond. At low speeds it feels just as free as any other steering head.
General operations will not be impacted and you will have full control of your motorbike; it will only engage when there is a sudden force caused by circumstances out of your control. This will also help protect you from sudden handling movements when an obstacle or other hazard is in your way so you can retain control of your vehicle in all conditions.
These parts are an essential addition to your motorbike, especially if you are planning on doing any riding outside of normal operations. This includes racing or off-roading, and even in normal, everyday conditions.
When do I need to replace them?
Steering stabilisers and dampers, like your shock absorbers and struts, use fluids due to their hydraulic make. When they fail, this liquid leaks everywhere, which will give you a telltale sign that it's malfunctioning.
Before this, you may notice wobbles or shaking through your handles when you are riding at top speed. However, this sign can also mean ageing tyres or other faults – either way, it is time to get to the mechanic.
Shop for complete kits online
We pride ourselves on sourcing the highest quality motorcycle parts and components from the most reputable suppliers and manufacturers around the world. You can get complete steering damper kits from our range as well as a wide range of other products including performance suspension linkages and all of the motorcycle tools you need to upgrade, repair and maintain your vehicle. Browse our range today.