Mitch & Josh Brierley
The boys have been riding bikes since they were three, starting on a quad bike before switching to two wheels and joining a mini bike club to hone their skills.
---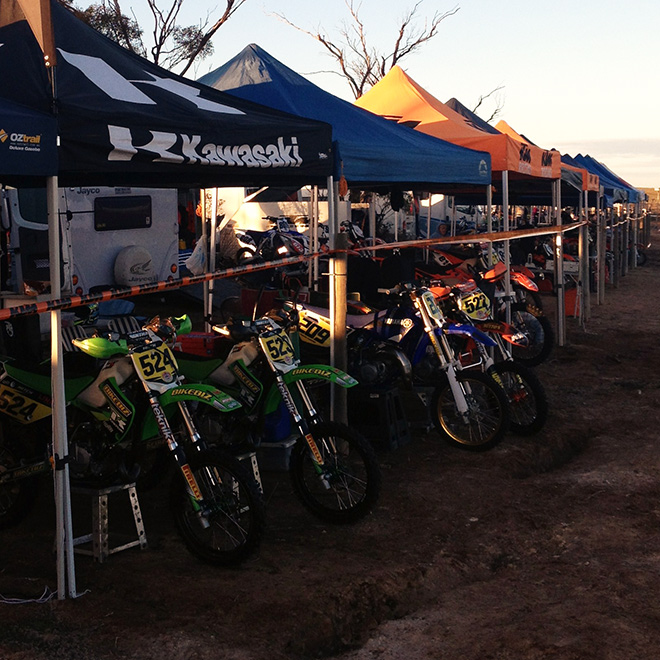 Mitch & Josh Brierley awarded for NSW Offroad Competition
"November was the annual MNSW Night of Champions awards night at Penrith Panthers pavilion. A fantastic night was had by all and Mitch and Josh were very excited to receive awards for the State offroad competitions.

Mitch received 1st place awards in both the NSW Sprint and XCountry championship and NSW Junior Enduro Championship. A fantastic result. Josh received a 2nd place award for the NSW Junior Enduro Championship. Another fantastic result.

Competition is now over for the year for the boys as we get ready for 2014 on the all new KX85 big wheels. They will be enjoying a short hard earned break then back into the hard work for a successful 2014.

Thanks for your support in 2013 and we hope to be able to work with you all into 2014 for another successful and fun year."

Hattah 2014 Race Report
Last Saturday had us at Mildura, Victoria for the Annual Hattah Desert Race. Ran by the North west Victorian motorcycle club, it is one of the highlights of the offroad racing calendar year. With over 600 riders, 200 of them being juniors it is an awesome event for all to watch. We had been in Mildura since the SA AORC round 2 weeks before and spent the time with the boys riding and testing to have the best result they could on the day.

Friday night is the Scrutineering in the main street of Mildura. The road is blocked of and all 600 riders and bikes are on display for all to see. An awesome sight.

Saturday was an early start for the juniors with their prologue being run from 8am. All 4 riders from the KX Junior squad were pitted together with a great presence that could not be missed. A 4.8km sprint loop to sort out the starting order for the main race later in the day was done first. Both Mitch and Josh new the importance of a good lap to start up the front of the field to minimise the dust for the first lap. Both boys had a great run with the KX85's running perfectly after the 2 weeks of testing. Mitch had an absolute flyer taking the 1st position in the class by 2 seconds. Such a good time it had him in 17th outright of all the Juniors. Josh also did himself proud landing in 7th position in their class. Only 1 second between 4 riders. Both boys were very happy and got to rest till the main race at 2pm.

At 2pm the Big Wheel juniors lined up on the start grids in order with Mitch on the front row and Josh just behind on the second row. Both got off to a flying start knowing they would have to push hard for the 2 hour, 144km. Mitch went out hard with only one goal, to win his class. Unfortunately the race didn't go to plan and he had a few large crashes while pushing hard in the lead yet was able to finish and salvage a credible 10th place. Josh proved to be mister consistent and push hard through the race to come away with an exciting 3rd place on the podium.

A big thanks goes to all the boys supporters, especially Kawasaki Motors Australia, 4Enduro/Technomousse, Bikebiz Granville, Teknik Motorsport, Powerplus racing fuels NSW, Incite Graphics, AXO riding gear, Shark Helmets, EKS brand goggles, Nik Sullivan's Competitive Edge Motocross coaching, Link International/Pirelli/RK Chains/Motul.

The next state and national rounds of the off roads are at Kyogle, NSW on 19th & 20th July. The boys will now get busy preparing to firm up their leads in both championships with 2 weekends to go.

Josh #203 & Mitch #204