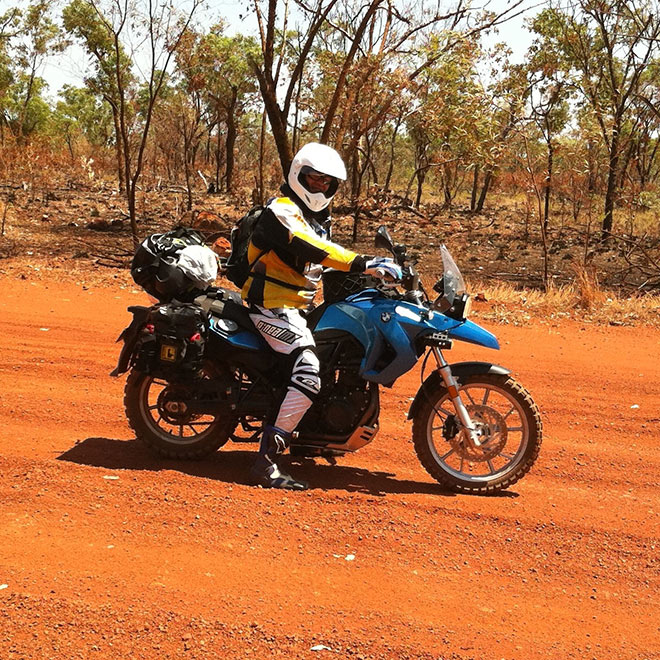 ---
We see a lot of 800GS's with good reason, they are very popular and capable. There are two basic versions, up to 2012 and 2013 on. The difference is the forks; the early version runs Marzocchi, the late model is WP. We will discuss the forks first as they are the biggest source of grief.
Forks - up to 2012
The forks are really the bug bear of the bike. The stock forks are very soft. A later version had adjustable rebound but they are unchanged internally, spring rate or dampening. Usually we can disassemble the cartridge and make changes (revalving). Unfortunately this is not the case with the Marzocchi fork as the cartridge tube is steel, peened over at the ends. Even if you destroy the tube to get it apart, what's inside is disappointing and not modifiable.
Stiffer fork springs and heavier grade oil. Not a perfect answer but better than stock. Stock springs are 0.48kg/mm, we have rates from 0.44 to 0.85kg/mm. Find the rate you need HERE.




Bitubo BMW Fork Cartridge Kit. This is a drop in kit including springs. They don't stand up to much off road use. There is an ADVRider thread about them HERE. We can service and modify the Bitubo units to make them more reliable. It seems Bitubo didn't do much durability testing.




Shiver Conversion. We take a set of Marzocchi Shiver MX or offroad forks with compression and rebound adjustment and graft them into the GS fork. We also revalve the cartridges so they are suitable for the GS and use an appropriate spring rate. While this is not a cheap conversion, it's much better than the Bitubo option. It does lack external spring preload adjustment though. The axle feet are machined out so you have compression adjustment at the bottom and rebound at top.




Ohlins FKA101. Ohlins took a few years developing this kit before production. While it's made from the usual Ohlins parts it's different in design to their road kits. There is rebound and compression adjustment at the fork caps, 20mm of spring preload (adjustable externally) and no machining required to fit. In my opinion it's the best option for the forks on any F800GS, Marzocchi, WP, ESA, whatever. The kit requires fork springs to complete.



Forks - 2013 on
BMW switched to WP forks for 2013. While it's a good move as the internals can now be revalved, there are no external adjustments. We can get the stock forks working very well if you can live without adjusters. Stock springs are 0.54kg/mm, good for riders up to 110kg. Ohlins have a cartridge kit that offers external rebound, compression and pre-load adjustment, FKA105.
Revalve stock forks. This is our most popular mod and produces great results. Every complaint from "too soft" to "too harsh" is addressed in our comprehensive, dyno verified revalve. Plus seals and springs if required.




Ohlins FKA105. The updated Ohlins kit to fit the WP Forks. Like the earlier kit, there is rebound and compression adjustment at the fork caps, 20mm of spring preload (adjustable externally) and no machining required to fit. The kit requires fork springs to complete.
Shock
Essentially all models use the same Sachs shock. It can be revalved and resprung. The bigger issue is bending top shock bolts when the shock goes to a solid height, bottoming out. The easiest way to prevent this is by getting the dampening and spring rate of the shock right for the rider, stopping the shock from bottoming in the first place. MSC/Rallymoto/Adventure Moto sell a nice alloy brace, but we have still seen bolts bend with the brace in place. There is just too much unsupported bolt, however if you don't jump the bike, chances are you will never bend a bolt. But people like to load it up with heaps of gear and give it hell and wonder why the bolt bends.
The answer to bending top shock bolts is never allowing the shock to reach a solid height. This is achieved by a combination of valving and spring rates, We can modify the stock shock with excellent results or we offer replacement shocks from Ohlins.
Sachs Non-Rebuildable Shock Overhaul. We repair, rebuild and revalve your stock Sachs shock, modifying it into a rebuildable shock unit as we go. It won't have adjustability but you only really need one setting: the one that's best! And we revalve it exactly to suit your riding and your weight. No more bent bolts.

Ohlins BM043. A replacement shock that actually works a lot better than stock, includes rebound adjuster, no hydraulic preload adjuster.
Not recommended for off road use. If your wheels ever leave the ground intentionally that's off road use. Use the BM303. (We can revalve the BM043 to make it more suitable for offroad if you didn't take our advice and bought one anyway)

Ohlins BM303. A premium quality adjustable shock, complete with remote mounted reservoir, complete rebound and compression adjustment and hydraulic preload adjuster.



---