Honda CRF 1000F Africa Twin Adventure Suspension
We upgrade more Africa Twins than any other bike, and Aussies buy more than 400 a year. It's a popular bike that responds really well to a little tweaking.
---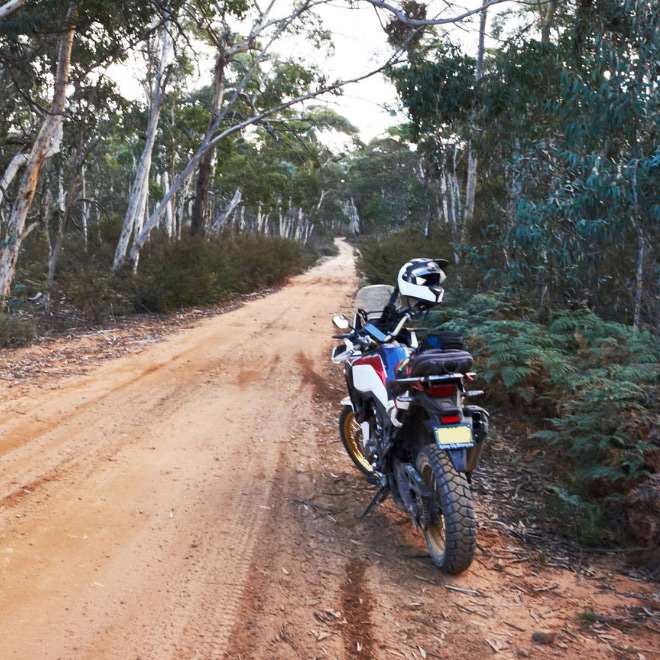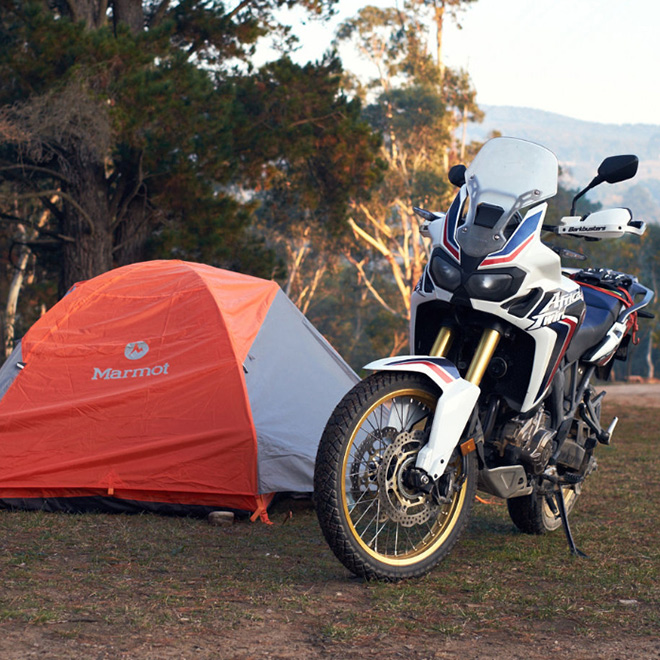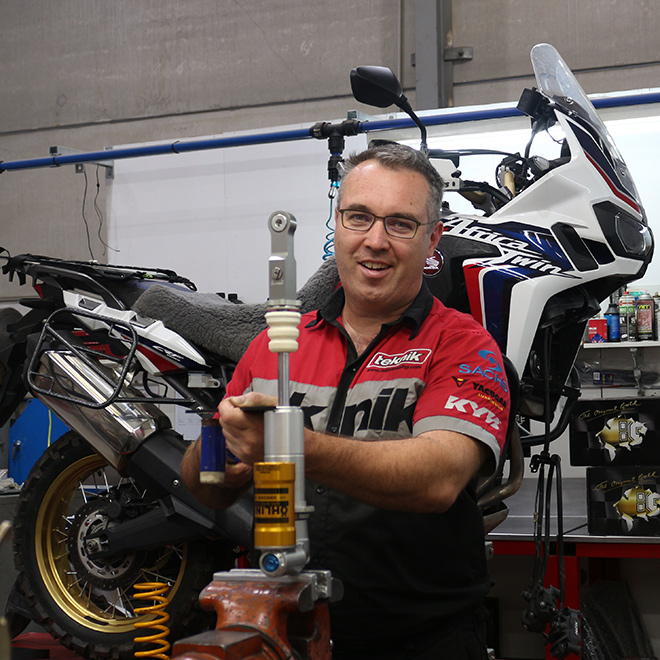 There are heaps of Africa Twins rolling over Australia, and a lot of people like their plush softness from stock. The Africa Twin Adventure Sport (ATAS) in both manual and electronic does offer a firmer fork setting with longer travel both ends.
Not everyone loves the stock settings, even the ATAS isn't right for some, because it is the most popular bike we get through our workshops. The stock suspension isn't terrible, but if you are over 80kg and carry gear, that pillowy suspension has drooped a long way down just sitting in the driveway. If you push it you will find its limits very quickly.
We offer a range of parts and services for both fork and shock. Although we do sell aftermarket cartridges and shocks, have a look at our extremely popular OEM shock & fork mods because frankly, we get outstanding performance out of it compared to some under developed aftermarket units.
Prices for servicing are based on a New or 'as new' bike. Any consumables such as seals, bushes, bumper, shock seal, etc, are extra. Freight options include Aust Post and TNT, approx $25-35 road.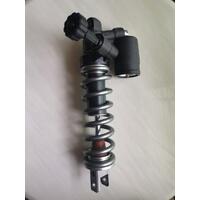 In Stock
Honda CRF1000L Africa Twin Exchange shock (non ATA
Full rebuild and our valving modifications. (SKU: 13-014-09)
$469.99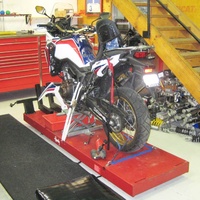 In Stock
Africa Twin Suspension Upgrade - Stage 1
Upgrade Fork & Upgrade Standard Shock(SKU: 13-CRF1000L-STG1)
$1,595.00

Honda CRF1000/1100L and ATAS Africa Twin Forks
---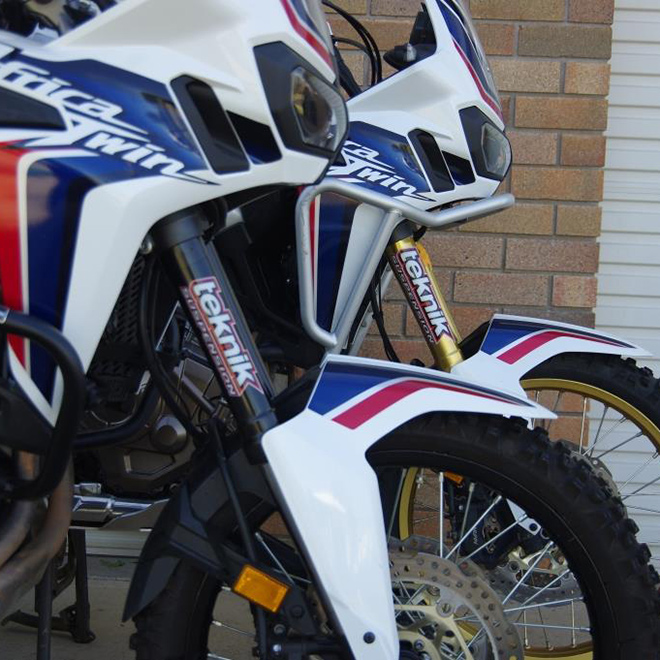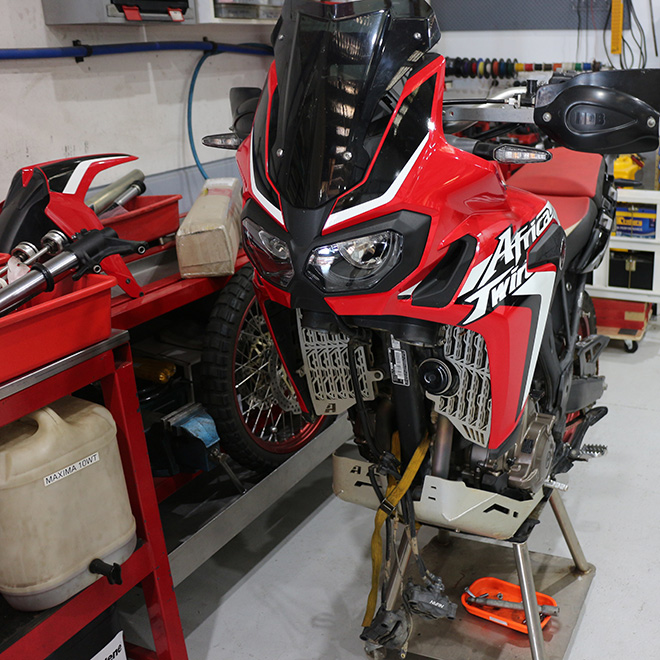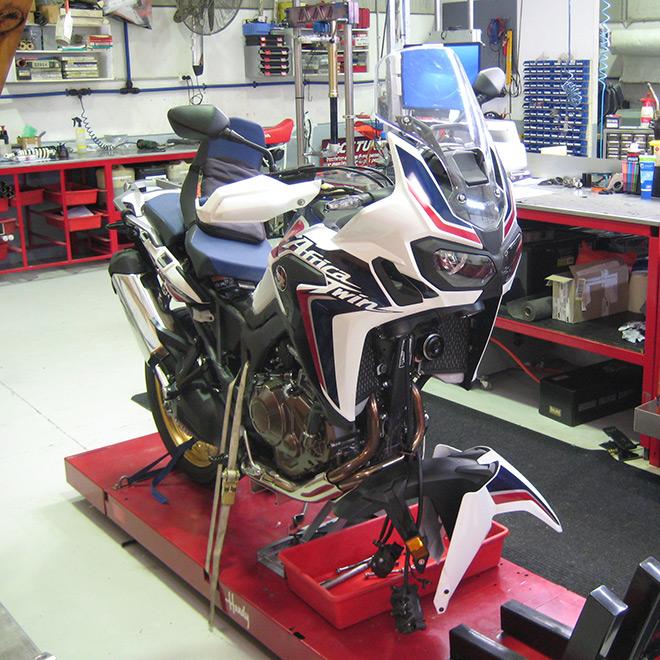 The stock fork is a Showa 45mm USD unit. It's closer to a late 80's Honda MX bike than a 2020 CRF450R but that still puts it above or at least on par with its sales rivals. Honda have designed the bike to be comfortable and do everything. The fork is approximately 30% lighter in compression damping than a KTM 1190R, while having a similar spring rate, so it's not supposed to be a CRF450R. And plenty of people love that softness.
If you find the forks are just too soft and dive a lot, check the spring preload. From stock the fork has very little internal preload and you can make the fork sit a lot taller by winding 8-10mm (Turns) on the blue preload adjusters on the fork tops. I'd suggest you run the rebound adjusters on the fork caps at 1.0 turn out from full hard and the compression adjuster at the bottom 5 click out from full hard.
The stock springs are 0.54-0.56kg/mm progressive, and we don't change them for riders under 100kg. The stock cartridges are limited on preload adjustment, only 10mm, and it's this lack of spring preload that causes the sag, not a light spring. For heavier riders we offer harder linear springs in our 19-145 Series Fork Springs. Please remember to remove 30mm from the stock spacer when fitting our springs.
The ATAS fork is 33mm longer and has a stiffer damping setting internally.
Fork Revalve & Service
If you want more performance and are happy to forgo some softness, send us your forks & shock, plus info on your height, weight, ability, terrain, and your complaints. We will give you back the customised results from our dyno settings bank and experience. Our modifications to the stock cartridge are aimed at giving more damping support, so you lose the floaty feel. Brake dive is significantly reduced, feel is improved. You get more feedback so you know where the front tyre is. Getting some air becomes fun, not crashing back to earth.
We have tested every aftermarket cartridge available for the AT. We get a very high level of performance from the modified stock cartridge including some in-house designed parts, higher than the aftermarket performance kits.
Upper Fork Tubes Wearing (Both early gold tubes and later brown tubes including ATAS)
The internet had a melt down over AT upper fork tubes wearing the anodising off where the lower fork clamp is, lots of talk of over tightening the lower clamp causing the wear. We measured it, checked every set of AT forks that come in the door and talked to Honda Australia.
The wear is above the lower clamp, so it's not tightening torque. The wear happens on the front of the tube so it's the pressure of the bush causing the wear. If you spin the top tube 180 degrees the wear still happens at the front.
Our answer to this is a performance coating called Kashima Coating. Only available in Japan, Kashima coating consists of lubricating molybdenum disulfide deposited via electrical induction into the billions of micro-pores on the surface of hard-anodized aluminum to provide better lubrication and less abrasion and wear. This process can take some time to get done due to shipping time frames ex-Japan. We have 6 sets of exchange Kashima coated fork tubes in stock plus a set of ATAS tubes to allow a fast turnaround because no-one wants to have their bike in pieces for long periods of time.
In order for Kashima coating to be performed the fork tubes must not have any significant scratches or gouges as Kashima is microns thick, it won't fill holes. Keep it in mind for your bike, because stock replacement fork tubes are going to end up with the exact same problem.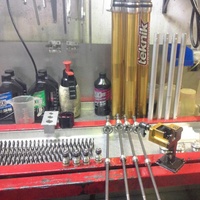 In Stock
(SKU: 13-008-00)
$252.45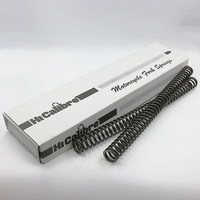 11 In Stock
HiCalibre Fork Springs 40.5 x 465
40.5mm od x 465mm free length(SKU: 19-145)
From $245.00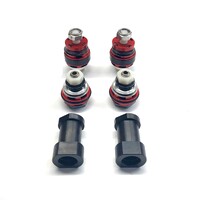 Nil Stock
Fork Re-Valve Kit - Africa Twin
Includes main pistons base valves & bottoming retainers(SKU: 25-008-20)
$450.00

Honda CRF1000/1100L and ATAS Africa Twin Shock
---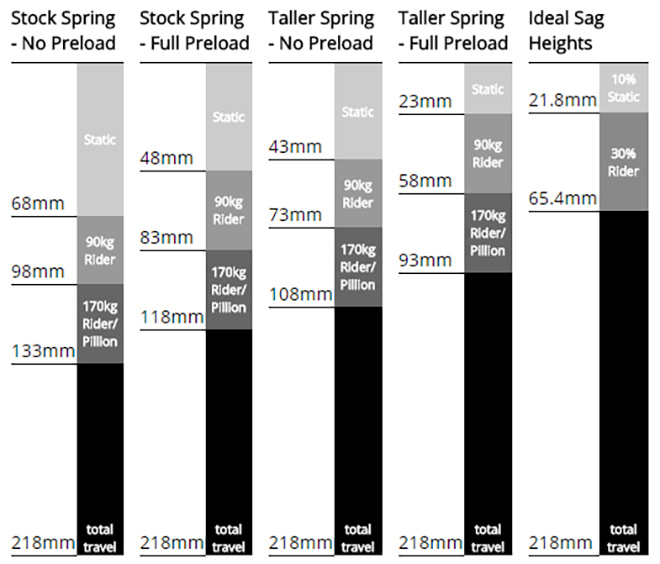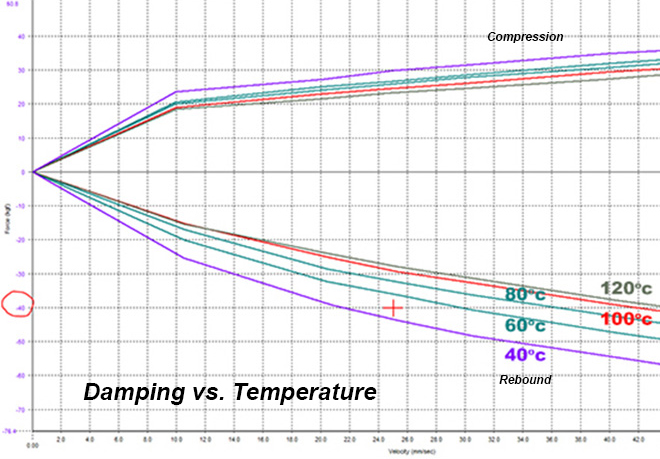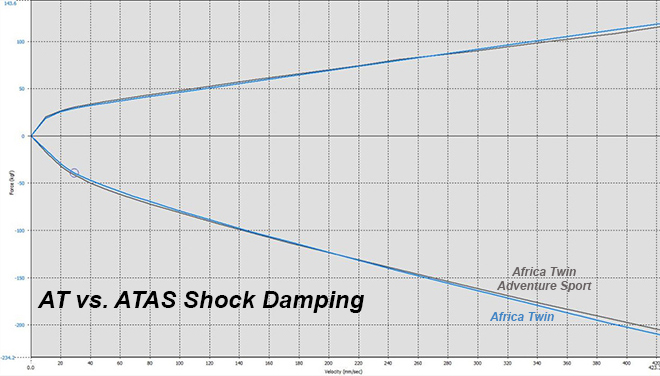 The stock 46mm Showa shock is not a bad unit but set up very lightly for road touring with an emphasis on comfort. The ATAS shock is 7mm longer but retains the same damping characteristics as the standard model. People have said the shock fades when it gets hot, but we've done shock dyno tests at 30 to 120 degrees. It doesn't actually fade more than any other shock, it's just that the level of damping the stock shock provides is very low, so any heat diminishes the small damping you have and you quickly get out of "the window". Try running your rebound adjuster at 3 out from full hard and see if the problem is still there.
The stock spring rate (8.3kg/mm) is OK for an 85kg rider (but add on 10kg of riding gear, hydration system and possibly some luggage plus the fact that we aren't all average - there is often a need for a heavier spring), the shock spring preload needs to be increased dramatically to help keep the ride height up. It's this preload that's a bigger issue than the spring rate if you check out the graph above.
Put simply, keep the stock spring for under 80kg no gear, 9.0kg/mm for most riders up to 120kg, 9.5 and 10.0kg optional, depending on luggage. We have a wide range of rates in our 20-075 Series Shock Springs. A spring collar is required too (30-113-50), and with the extra length of the collar and spring giving more initial pre-load, your shock has a much longer usable dampening stroke and your hydraulic pre-load adjuster is more useful too (you don't have to have it on full hard all the time).
For those of you who haven't read our offroad setup guide, (and you really should) here are the basics of sag.
With the bike up on a lift, the suspension is "topping out", completely hanging free. This is called the free length and it's as long as your suspension gets.
Now if you put it back on the ground, the suspension will drop a little due to the weight of the bike. The amount it drops is called static sag.
And if you then sit on the bike, the suspension will drop some more due to your weight. Even further if you carry a lot of gear. The amount that the suspension has dropped from the free length is called the rider sag.
A "classic" sag setting is 10% shock travel for static sag and 30% shock travel for rider sag, so here are the numbers for the CRF1000F: a total of 218mm shock travel, so an ideal static sag of 21.8mm and an ideal rider sag of 65.4mm.
So, as you can see from the first pic above, the sag from stock is massive! With no preload on it, the rear suspension is almost a third of the way through it's travel before anyone even sits on the bike. When it's weighted up, with so much less shock travel to absorb any big ruts and thumps, the shock skips around and gets harsh quickly. With the added collar it's much closer to classic ride height numbers, leaving more shock absorber travel.
Just how do we determine what to do with your stock fork and shock? There is a great deal of suspension dyno testing that goes into the R&D, confirmed by riders impressions. The stock shock is light on both rebound and compression in our opinion. As you can see in the second pic the Africa Twin's Suspension Dyno runs (rebound adjuster at 5 clicks out for all these tests), we have marked (with a red cross) 40kg @ 25mm/s as the absolute minimum we want to see for rebound on any suspensions. At 40 degrees it is only just covered, but once you are at or above 60, the rebound has dramatically faded. While this dampening loss is an issue, it's the fact that we start with barley enough that makes it a problem. Why do manufacturers do this? My theory is everyone wants a nice bouncy plush feeling bike on the showroom floor.
The third pic is the ATAS shock vs standard shock at the same clicker adjustments and same temperature.