Yamaha T7 700 XTZ690 Suspension upgrades
The Yamaha T7 The best of both worlds? Single cylinder feel with twin cylinder power? The new adventure bike standard?
---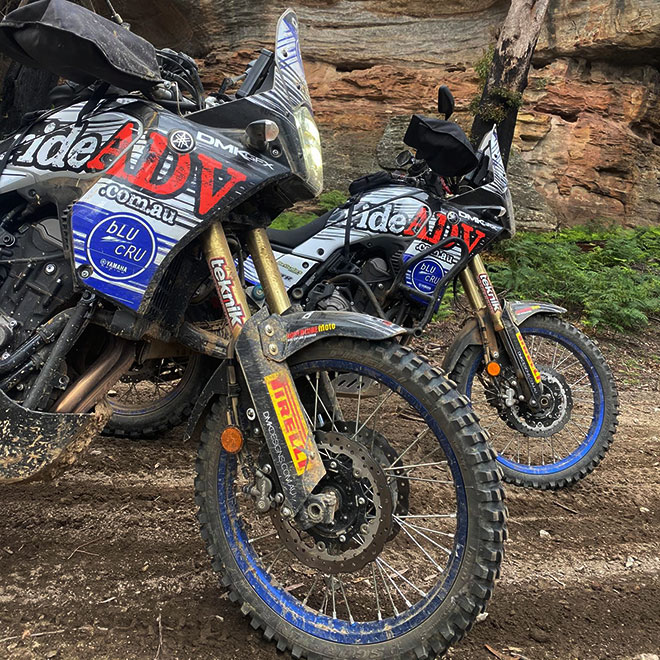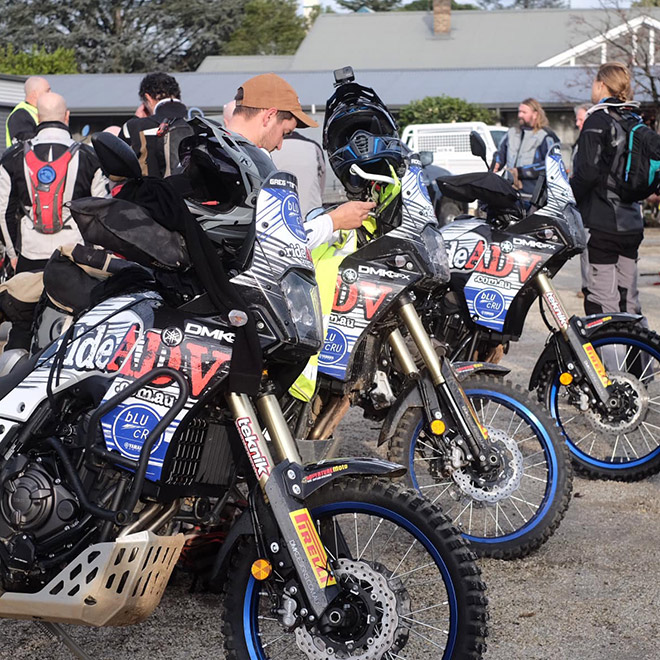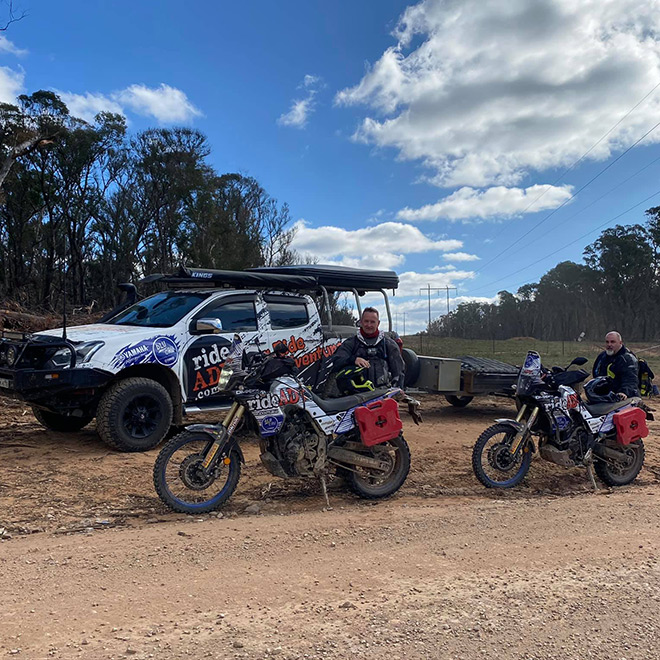 We started suspension testing the 700 in October of 2019 with Ride Adv. We have drawn come conclusions and setups for different applications. One of the great aspects of testing with Greg Yager's ride Adv crew is the diversity of testers in weight, ability, speed and feel. Feedback from a variety of riders has been used to determine suitability of the settings. This has lead to a lot of back and forth work on and off the shock dyno and some broken parts that you will only find after pounding components into submission! So, how did all this pan out?
The stock bike is great out of the box compared to any Japanese adventure bike before it. In stock trim we find the best settings are 8 clicks out on both fork rebound and compression. Shock comp on 10 clicks out (or anywhere you like, its not a very effective adjuster) and 3-5 clicks out from full hard on rear rebound. As the stock 6.9N/mm rear spring is light for most Aussies, between half and full preload on the adjuster gets the best out of the stock shock. If you are over 85 kg or carry gear, a heavier rear spring is a simple move and well worth it.
We get a lot of calls about the T7 suspension. It's interesting as many callers have very different complaints about it. We get "the front forks are too harsh" then "the front forks are too harsh, then just bottom out" and "the forks just bottom out everywhere!" Less precise comments on the shock. We even bought our own T7 so we had more sets of suspension to test and a bike to ride. Serious? Yes we are.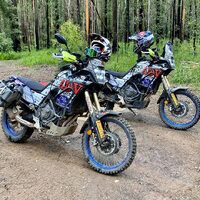 In Stock
Full suspension setup for Tenere 700
(SKU: 13-XTZ690-01)
$1,895.00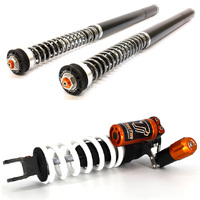 In Stock
Tractive Extreme sealed Cartridge & Extreme shock
(SKU: 13-XTZ690-03)
$4,540.43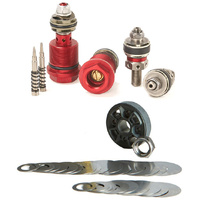 In Stock
K-Tech ORVS fork kit and shock kit Tenere 700 incl
(SKU: 13-XTZ690-05)
$1,893.94

Yamaha T7 Tenere 700 (XTZ690) Forks
---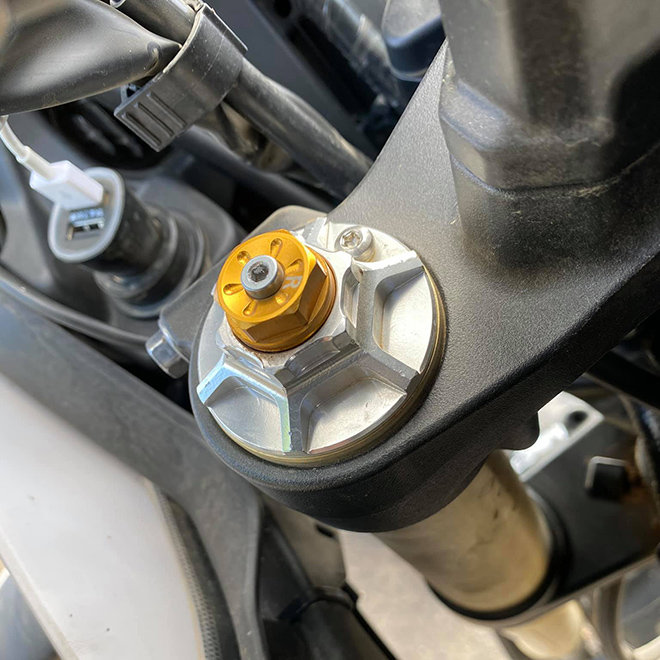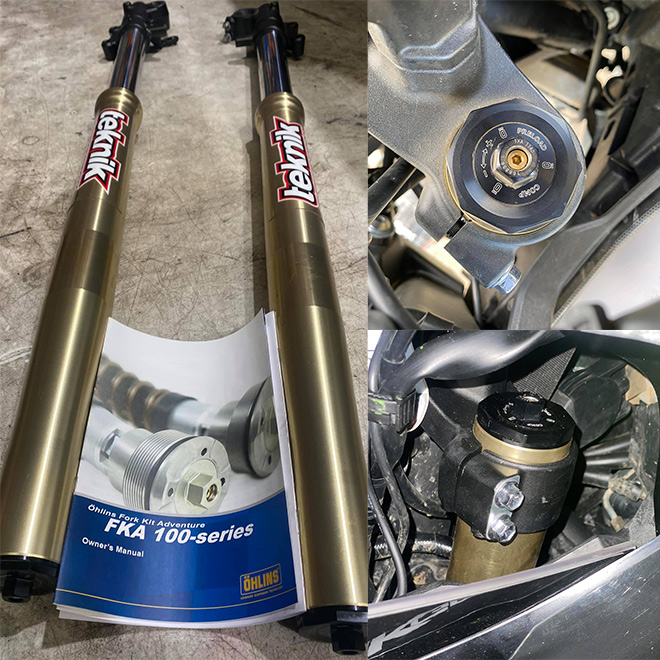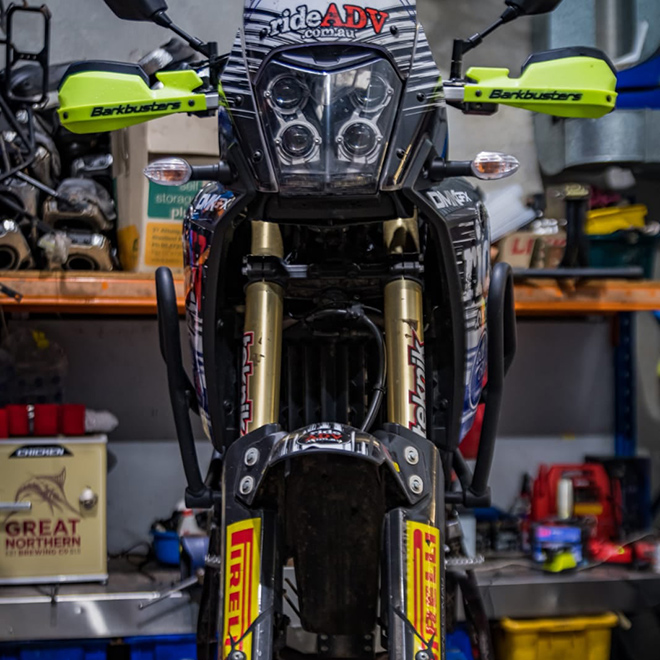 The T7 gets a KYB 43mm USD fork, very similar in construction to the XTZ1200, but with more travel, 210mm. Stock springs were 0.57kg/mm in the first bikes we tested, subsequent forks have increased to 0.60kg/mm. We have springs in 0.60 and 0.65kg/mm.
What's wrong with the stock fork? For those of you who love it stock, nothing. However, some riders feel the fork is a little harsh on small bumps yet bottoms too easily, and these are the areas we have been working on. We always intended to make our own piston kits for this fork but Covid-19 and a total business premises overhaul saw us short on time, so we went another way that's been very educational. We quickly became aware there were many people wanting to know how the aftermarket cartridges performed in the T7. We did what no-one else did, we bought them all, ran them on the shock dyno then handed them over to the RideAdv wrecking crew to try and destroy. We will also add we are not sharing dyno graphs as we have done in the past, the R&D work we do is ours and while we like to publish it we have become aware it's helped a few competitors and suspension manufacturers in ways we didn't envisage.
Andreani - Initially, there was only one cartridge offering from Andreani, the 105Y39E. We didn't know it when we bought 5 sets but they were designed for the European roads. 180mm travel, firm springs and road type damping. We quickly discovered it was very simple to change the internal spacers of these units and get up to 240mm travel! Mid 2020 on they released the 105Y39H Rally with 240mm travel. We built an original set up for Greg with 210mm travel and he got busy riding. He found the fork dived more than stock but that was the only negative, it handled rocks and roots extremely well and was an all over standout. After a few thousand KM the fork performance fell off and we got the forks back. There had been some shim failures and we needed Andreani to change some designs for us. They have been great to deal with and made the changes we asked for, changing the production sets to the more durable design (available February 2021). The RideAdv crew have been very happy with the Andreani product with a revised setting from us, we made some changes to improve the durability and make the fork slightly firmer, we have not seen this revised setting fail but we believe it will fail in time. As of early February 2021 we have not seen the new design and have not tested it for durability, we will update this page when we have some Km on the new designs. The Andreani adjusters are the first pic above.

Ohlins - We were lucky enough to get a set of FKA114's. Why do I say lucky when we had to buy them? Ohlins is not the company it was, supply is short since Ohlins was bought out by the US giant Tenneco. We wanted to test everything we could get our hands on, even if we struggle to offer it for sale. We ran 6.5N springs and sent Ride Adv's "Crash" the Ohlins. His first impression was the fork was stiff on low speed movements and more setup for the road. After a few thousand KM he's grown to like them and only has positive comments. Bottoming resistance is good. Anyone who tries the forks notices the firm initial feel, quite different to the Andreani. We know the Ohlins product well as we were an Official Ohlins Centre until we terminated our contract, largely from supply issues. The Ohlins kit installed in the forks are the second pic above.

Tractive X-Treme - Tractive have been manufacturing fork cartridges for Touratech since the beginning of the collaboration in 2013, and if you buy Touratech you are buying Tractive. I should also state we are the Tractive importer for Australia and NZ. Greg has been running the pressurised X-Treme cartridges for some months with 6.8N springs. Greg has not fallen in love with the cartridges and we have to revisit the setup (February 2021). Rod Faggotter has been running the Rally Raid version and described them as a "game changer" although not suitable for laid back adventure riding, they required commitment to perform and Rod was impressed at the transformation of the bike when pushed. He also noted the longer version of the suspension offered by Rally Raid/Tractive and Touratech was, in his opinion, not a forward step with the centre of gravity being too tall, it upset the feel of the sweet handling T7.

K-Tech - This is not a cartridge conversion but a set of pistons to replace all existing pistons in the front fork. Its not exactly a DIY job to fit (but simpler than the Andreani kit where you must remove axle feet). The kit works quite well, improved small bump compliance, improved bottoming resistance, very easy to live with and readily available. It's not exactly cheap though, near the same price as the Andreani cartridge kit.

Rally Raid - There is an open cartridge version of the Tractive 35mm piston cartrige that's a Rally Raid exclusive, the RRP616. We bought a set but have not fitted them into the testing schedule yet (Feb 2021) we have heard that they are similar feel to the other European cartriges in that the initial movement is firm. We know a set has been sent back to the UK to be modified for Australian conditions. Ours are the original spec so we are looking forward to getting some hours on them. We can order these cartriges from Rally Raid for customers as there is no official Rally Raid distributor in Australia.

Teknik Motorsport - We also have a DIY fork kit in the works, we have had some other business imperatives in 2020 that have slowed the development, it's not that we are not interested, there are only so many hours in a day. We will list it on this page when it's complete or you can send us an enquiry now and we will let you know as soon as they're available.
We are offering a Kashima coating on the upper fork tubes for low friction. Once we have a few sets of tubes in an exchange rotation there will be no waiting.
Yamaha T7 Tenere 700 (XTZ690) Shock
---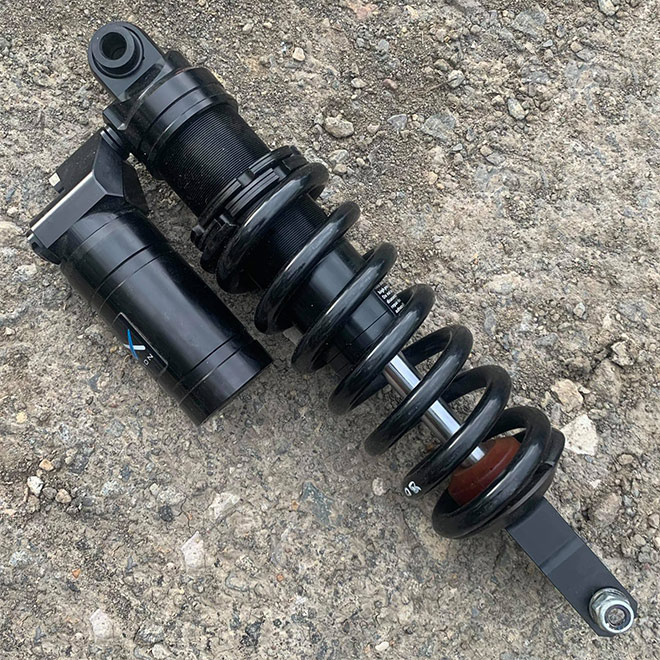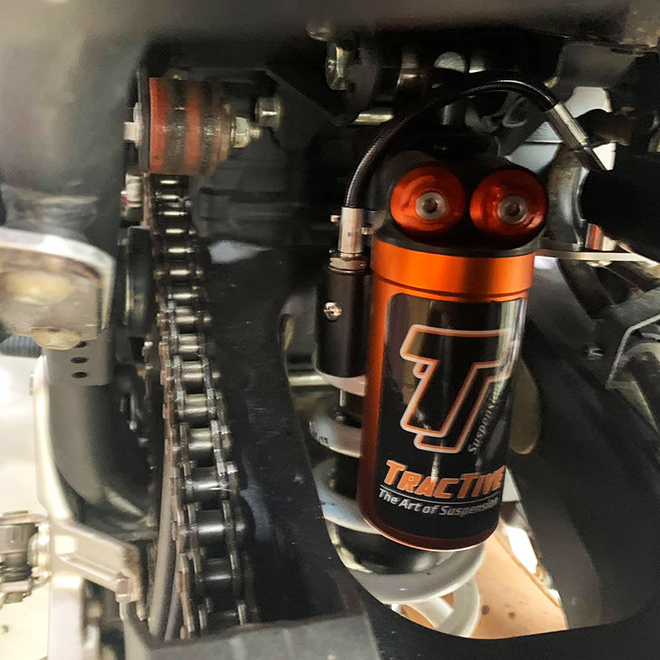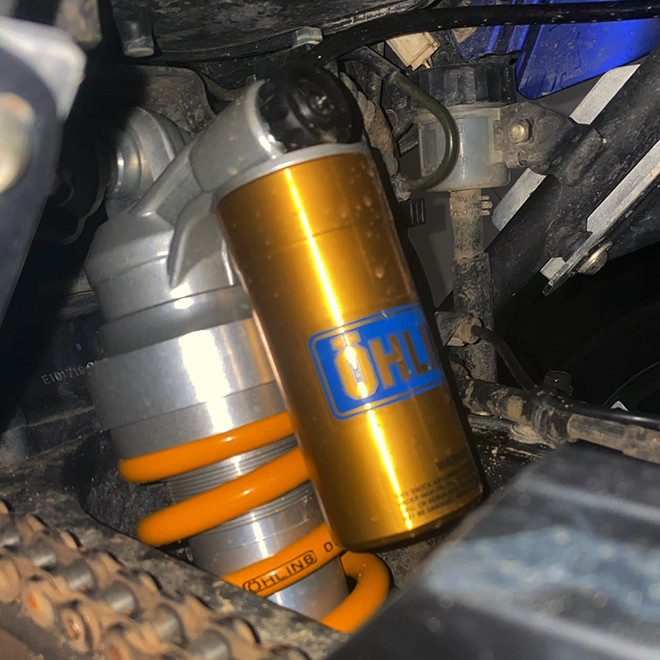 What's wrong with the stock shock? For a stock adventure bike shock, it's very good. The spring is on the light side for most Aussies and is ideally suited to 75-80kg with no gear. We are currently producing shock springs in 7.5, 8.0, 8.5, 9.0, 9.5kg/mm. Most riders will use an 8.0 or 8.5. The stock shock is a 40mm KYB unit with a compact preload adjuster. It has compression and rebound adjustment.
TFX - There are 2 versions of the TFX shock for the T7, both piggyback design, one with Hydraulic preload adjuster and one without. They are the same shock otherwise. The TFX has done more hours than any of the other shocks, its been jumped, ridden for days on the tar and gravel and generally been a mule. The adjusters work very well and everyone who rides it can find a happy adjuster place quickly, we have run an 80N/mm spring on this shock for the majority of the testing. No complaints, its been well received. Jumps well, not harsh, drives well on corrugations. The all-black shock is the first pic above.

Tractive - Tractive produce two models, essentially a piggy back and a non piggyback. Being the elitist bunch we are, we only stock and test the piggy back X-Treme versions with the PDS secondary piston, a feature no other aftermarket shock has. This allows the shock to be compliant on small shaft movements and stiffen up on full stroke hits when the second cup is engaged. They come in stock height, 25mm taller and 35mm lower. The best performing shock we have tested. 75 / 80 / 85 / 90 / 95 N/mm springs available. Installed in the chassis, those anodized orange adjusters are easy to find on the second pic above.

Ohlins - The YA818 is part of the STX46 family in Ohlins. It has been around for decades but is strong and reliable. The shock has been on Crash's T7 for a few months and gets well used. Anyone who rides it likes it, Crash has not deviated far from the Ohlins recommendations on adjuster position. It comes with a 70N/mm spring, that's why it went to Crash (The Male Model from The Shire). We have an 80 and 90N spring for Greg to test the shock with as soon as we can prise the shock out of Crash's bike… (third pic above)

K-Tech - This isn't a complete shock, just a 40mm piston kit. We didn't think it would be much chop but it works OK, like a revalve in a box. Not as good as a complete shock but better than flipping shims if you don't have a shock dyno. Does nothing wrong. Good DIY part.

Teknik Motorsport - We have been working on stock revalves with our range of springs and will also be offering a DIY shock piston kit just as soon as we can get out of our own way. Preload spacers for the shock are included with the spring, but you can also order them separately. Instructions for the preload spacers can be also be found here.
Find More Parts For Your Yamaha T7 Tenere 700 (XTZ690)