Ducati Desert X Suspension Information & Upgrades
Is it the Ultimate Adventure Bike? Ducati certainly seems to think so. Endless power, amazing tech and rugged construction meet a pretty lazy suspension spec.
---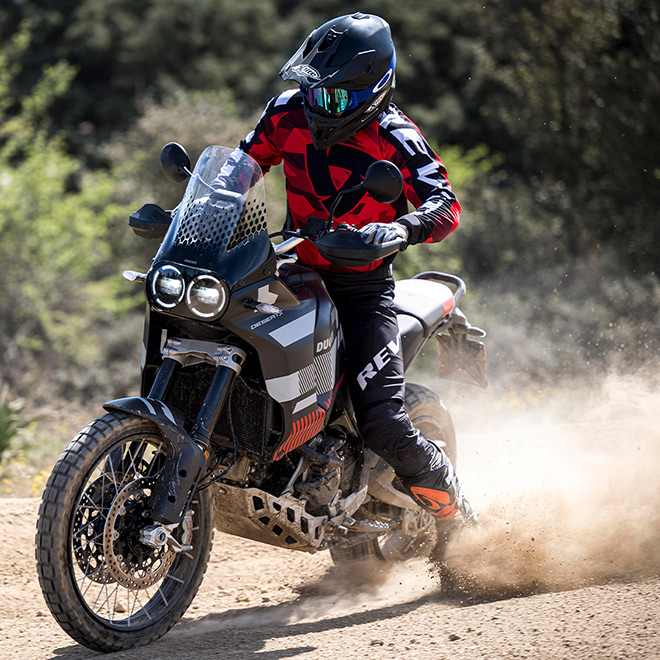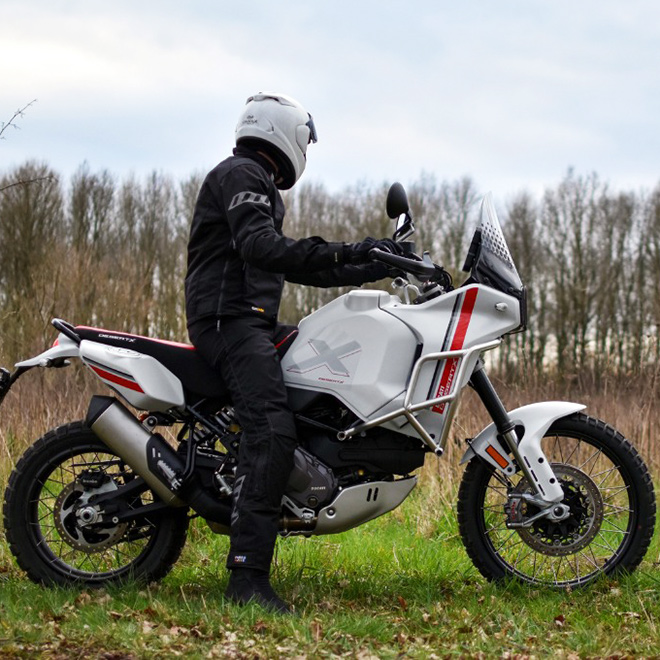 The Ducati DesertX is perfect in the sales brochure. Equipped with a 937cc engine producing 113 horsepower, the DesertX boasts a rugged design, long travel KYB suspension, spoked wheels, and knobby tires. Advanced electronics such as cornering ABS, traction control, multiple riding modes, and a quickshifter further enhance its capabilities. The bike's digital instrument panel and LED lighting provide ease of use and visibility in all conditions.
We watched the Ducati promotional videos. The MX track. The jumps. Then we rode it. It's not much like the video.
We love it. On the road. Gravel was a bit less loved and rough dirt roads had us crying for our mothers to take up back to the tarmac. We tried the external adjustments. Small improvements. Measured up the ride heights and ran the stock fork and shock in the dyno until all the data was revealed. Its a nice bike, a pretty bike and it can be a very good fast adventure bike with some work...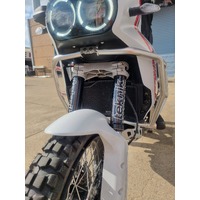 In Stock
Full suspension setup Ducati Desert X 2023-
(SKU: 13-DESERT_X)
$1,995.00

---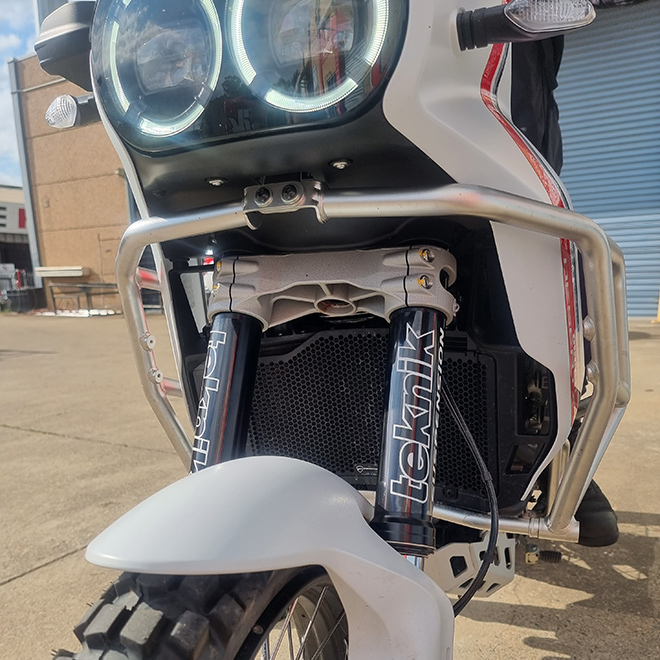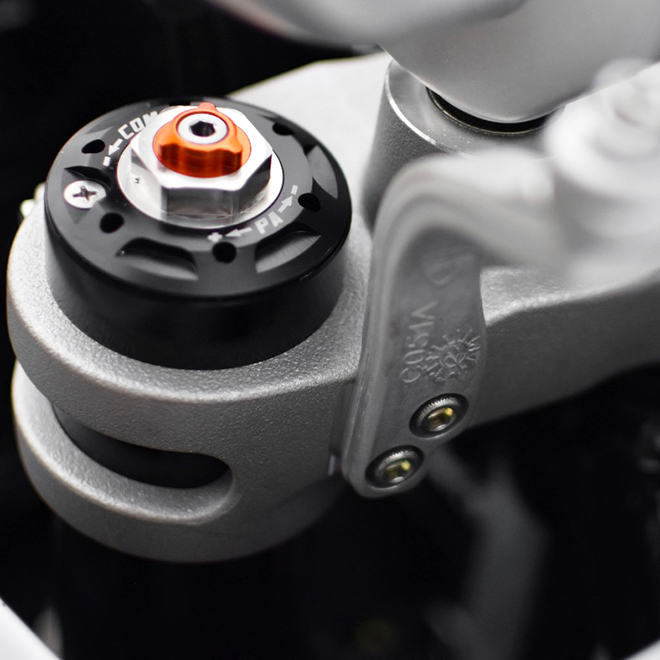 Forks are a KYB 46mm unit with a new style of cartridge we have never seen KYB use. Its essentially a 20mm cartridge, 10mm shaft in a split arrangement so the rebound and compression adjusters are at the top. We were very happy to see KYB uses base valves so we can keep some pressure balance in the system, this was a big relief considering the offroad usage. Very similar to the WP Split fork used in the KTM 1090 & 1190.
Stock spring rate is 0.63kg/mm with adjustment from 3-13mm preload. Oil height 95mm.
In stock trim, we wanted more damping than the fork could offer with external adjustment. The front end also rode low making it unstable in some situations. We tested the forks on the dyno and made internal changes to lift the damping to a level similar to other motorcycles in the same adventure category. Re-test on the dyno and then out on the road for a mix of tar, rough backroads, gravel and some more challenging offroad. We were satisfied the fork was still compliant yet brought confidence in all terrain and allowed the bike to be ridden more aggressively in all situations.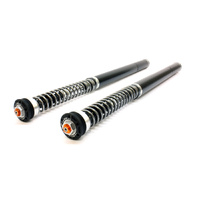 1 In Stock
TracTive X-TREME PRO (+30mm) Long Travel DUCATI De
Made in The Netherlands(SKU: 35DU21-D5307-TR)
$2,795.00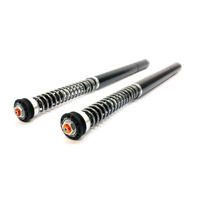 Custom Order
TracTive X-TREME PRO DUCATI DesertX 2021-2024 Fron
Made in The Netherlands(SKU: 35DU21-D5306-TR)
$2,795.00

Custom Order
TracTive X-TREME PRO (Low -25mm) DUCATI DesertX 20
Made in The Netherlands(SKU: 35DU21-D5308-TR)
$2,795.00

---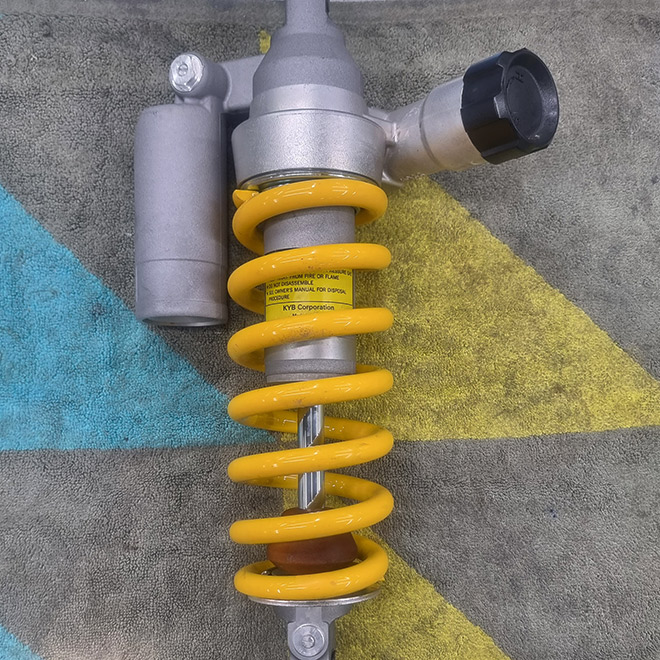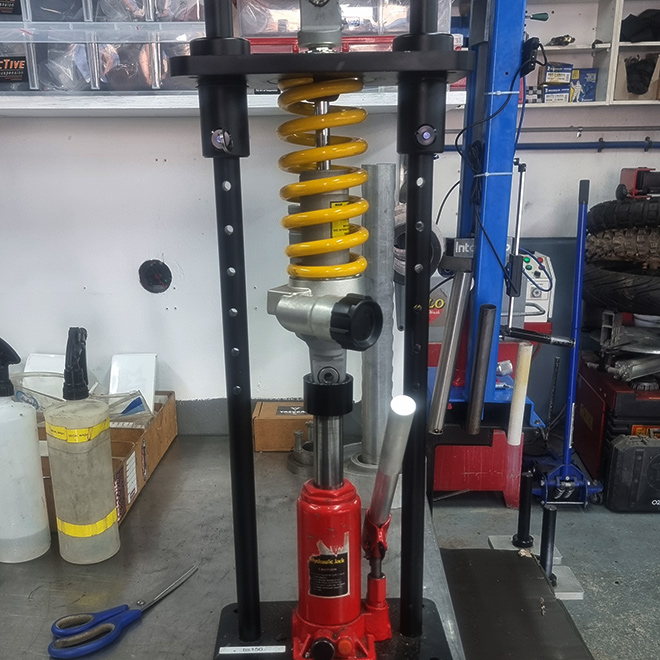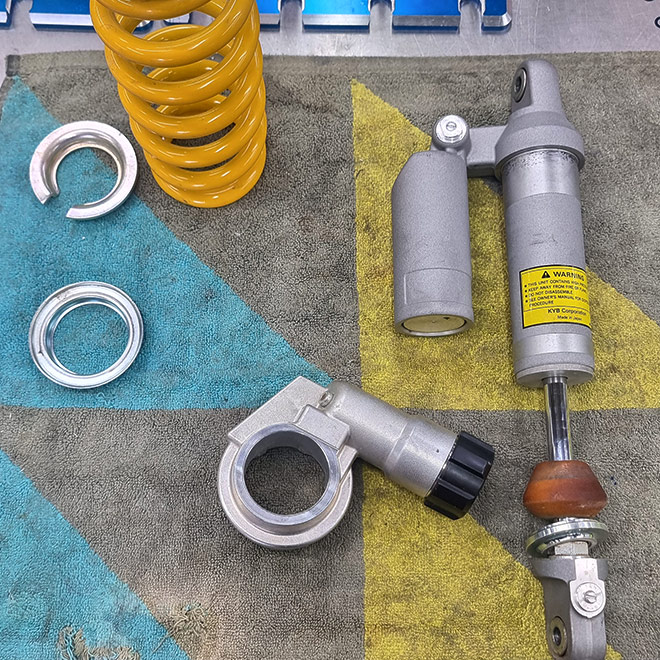 KYB rear, 40mm body, 14mm shaft. Rebound adjuster, no compression. Hydraulic preload adjuster. Not a bad stock shock. Like the front, low on preload and under damped for fast adventure riding.
Spring rate is 8.8kg/mm stock with only 2mm installed preload. Made for a light Italian. We ran preload on max for the stock ride test and checked our static and rider sag heights.
| Rider Weight | Preload Adjuster | Static Sag | Rider Sag |
| --- | --- | --- | --- |
| 75kg | Minimum | 52mm | 90mm |
| 75kg | Maximum | 26mm | 65mm |
| 130kg | Maximum | 26mm | 85mm |
With some dyno runs on the stock shock we started changing the internal settings to increase damping levels while keeping the compliance an adventure bike needs. Once we were happy we swapped the stock spring for a 9.5kg/mm with more initial preload. The result was what we aimed for. A much more planted feel offroad while keeping the nice compliant road manners.